The Pregnancy Center of Central Virginia sent a newsletter update:
Approximately 20% of their clients choose abortion, and they are praying for several that are currently undecided. Through June they have ministered in 1,288 visits with women, men and families. The Gospel was shared 119 times and 17 commitments to Christ were made. Since only between 25 -37% of their clients identify as Christian, they seek every opportunity to share about Jesus. Please keep the "undecided" mothers in your prayers.
Second, their long-time bookkeeper will be leaving the ministry in two months. PCCV is seeking a full-charge bookkeeper/finance manager with excellent accounting/computer skills and a heart for women and families facing challenges of pregnancy. It is a part-time position, 28 hrs/week. Applicants should email their resume to Kathy@virginiapregnancy.org or call Kathy at 434-979-4516 for more information about this position.
Third, they are excited to announce our next Counselor Training class coming up in September! Classes begin September 11th.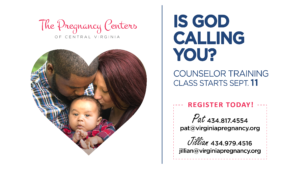 The Pregnancy Centers Need You!

Is God calling you to serve Him in a new way? Do you feel passionate about helping those in crisis and the dignity of every human life? If you can volunteer 3-4 hrs/week becoming a counselor at the Pregnancy Center may be for you. You'll learn how to counsel those in an unplanned pregnancy and support them through it. Training is fun and counseling is as simple as listening, being there to love, and allowing God to take the lead. There is a $25 fee to cover material and the 6-session class begins September 11th, 6pm-9pm. Call or email today for more details and to sign up! Jillian@virginiapregnancy.org | 434.817.4554. (All 6 sessions are mandatory.)